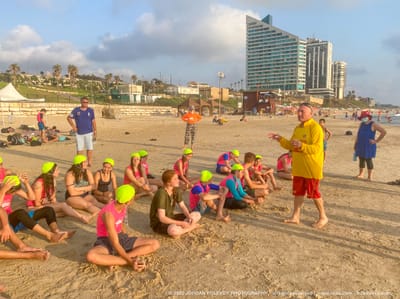 SURF RESCUE CERTIFICATE (SRC)
.
Our teens (ages 14-17) "Dolphins" Program Surf Rescue Certificate (SRC) course provides participants with the skills and knowledge of basic surf awareness and surf rescue techniques in a fun filled experience.
Safety and well being
Knowledge of the surf environment, including hazards & surf conditions.
Surf awareness skills
Surf skills & techniques for self-survival in water while negotiating prevailing surf conditions with or without a flotation device.
Enhancing team communication and public awareness.
Surf rescue techniques
Perform a surf rescue using SLSA certified equipment & rescue techniques.
First-aid & CPR
Learning basic anatomy and understanding of human body.
Basic first aid skills with a focus on preserving life and preventing injury.
Respond to an emergency situation requiring cardiopulmonary resuscitation (CPR).
Marine Environment Studies and Conservation
Deeper understanding of the coastal environment and its inhabitants.

Prerequisite for participants in this course: swim 200 meters in 5 minutes and 1 minute float.
Upon completion of the SRC course you receive the ILSF Surf Rescue Certificate.For more information on course dates and prices, click
here